Aluminum Toolboxes for Semi-Trucks
Not all semi-trucks come with a storage area for tools and gears — but it's a must-have for any trucker. Whether you need an underbody toolbox or a set of flatbed toolboxes for your fleet, you'll find it in our wide selection of toolboxes for semi-trucks. Custom styles are also available to suit your specific needs.
As a top manufacturer for North America's trucking industry, we make it easy for you to place your order. We have warehouses across the US, cutting down the delivery time significantly. You will get your new or replacement toolboxes, along with mounting kits, in no time, no matter where you are in the country.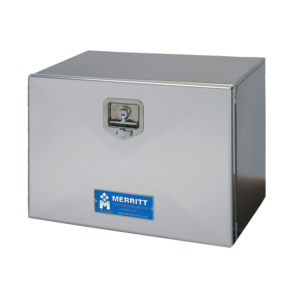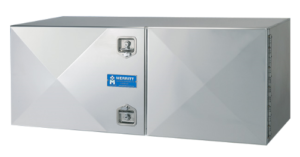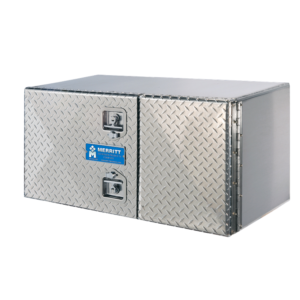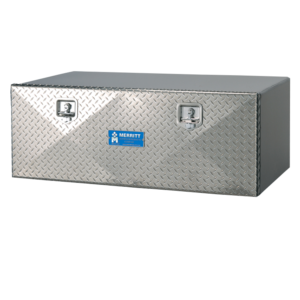 Constructed of high strength/low weight aluminum. Protective coating on smooth L doors for improved shipping protection (to
be removed at time of installation.)
Polished stainless steel T-handle latches with locks. Doors available in smooth finish or diamond plate. All smooth doors
are polished to a # 8 grade for an exceptional appearance.
Stainless Steel doors are available by special order

Custom styles and designs are available to meet specific needs

Door lanyard option available
Keep Your Tools and More
Our aluminum toolboxes for semi-trucks offer legendary toughness, delivering the following advantages:
Security and protection
Changing a flat or blown tire or replacing a clutch cable on the roadside is part of a trucker's job. It's a must-do for truckers to bring a set of go-to tools and gears whenever they hit the open road. But without secure storage, their tools can easily get stolen while they're taking a break at rest areas or truck stops.
Rain, sunlight, and harsh temperatures can also wreak havoc on tools if they are left out in the truck bed. Our secure, durable toolboxes can protect your tools or those of your truckers from weather elements.
Better tool organization
With a truck toolbox, it's easier to organize tools. You can find them faster whenever you need to do quick repairs on the roadside. This will save you a significant amount of time, whether you're a truck driver, operator, or a fleet manager.
Visual appeal
Our toolboxes are made of aluminum complete with polished stainless-steel T-handle latches. Their doors are available in a diamond plate or smooth finish. But no matter which standard style you choose, our toolboxes can add a visual appeal to your truck. You can also opt for custom styles and designs.
Why Choose Merritt?
Whether you're a truck driver, owner, or a parts manager for an auto shop or truck dealership, you can't go wrong with Merritt Aluminum Products.
High-quality, good-looking toolboxes
Made of high-strength/low-weight aluminum, our toolboxes are durable and sleek without adding any significant weight to your truck. Plus, with their superior strength, our toolboxes are the ideal choice for trucks operating in harsh environments.
40 standard base models, customization available
With us, you have the convenience to get a toolbox explicitly made for your vehicle. Tell us your requirements, and we can turn any of our standard models into a custom toolbox for your semi-truck.
11 warehouses across the US
Our company has 11 fully stocked warehouses across the US. This helps us reduce our delivery time significantly, making our team capable of shipping orders anywhere in the country in just a few days.
Ready to order toolboxes for your fleet of semi-trucks or auto shop? Get in touch with us today.
ATTENTION
UHMW Plastic used on striker plate for longer latch assembly life and easier operation.

Automotive grade door seals, secures the entire perimeter, for a more water resistant seal.

Merritt's extruded door frame provides added strength.

Lap joint weld provides material overlap in the corner where it is needed for superior strength and longer life (compared to most boxes that are constructed with butt welds).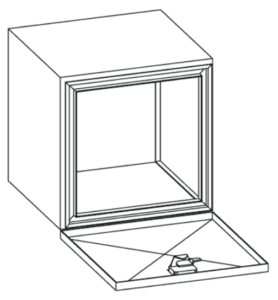 ZINC PLATED STEEL MOUNTING BRACKETS
Vertical angle is high strength alloy and 1/4" thick.

Steel for strength and low cost, Zinc Plated for lasting good looks!

Available for 18" or 24" deep Tool Boxes.

Lightweight design – 117 only 18 lbs., 118 only 25 lbs.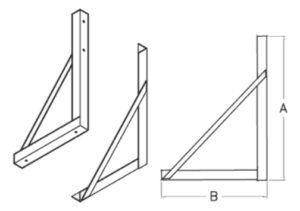 | Order # | Description | A | B | Shipping Weight |
| --- | --- | --- | --- | --- |
| 117 | For 18′ Deep Tool Box | 23-13/16″ | 16″ | 18 |
| 118 | For 24′ Deep Tool Box | 29-13/16″ | 22″ | 25 |
| 620 | E-Z Mounting Kit for 18″ Tool Boxes | | | 24 |
| 621 | E-Z Mounting Kit for 24″ Deep Tool Boxes | | | 31 |
SMOOTH DOOR
Order #
Description
Shipping Weight
201
18x18x18 Smooth Single Door
25 Lbs.
203
18x18x24 Smooth Single Door
36 Lbs.
205
18x18x30 Smooth Single Door
42 Lbs.
207
18x18x36 Smooth Single Door
48 Lbs.
287
18x18x36 Smooth Double Door
49 Lbs.
209
18x18x48 Smooth Single Door
60 Lbs.
211
18x18x48 Smooth Double Door
61 Lbs.
289
18x18x60 Smooth Single Door
69 Lbs.
291
18x18x60 Smooth Double Door
70 Lbs.
213
24x24x24 Smooth Single Door
47 Lbs.
215
24x24x30 Smooth Single Door
56 Lbs.
217
24x24x36 Smooth Single Door
64 Lbs.
235
24x24x36 Smooth Double Door
61 Lbs.
219
24x24x48 Smooth Single Door
77 Lbs.
221
24x24x48 Smooth Double Door
79 Lbs.
223
24x24x60 Smooth Single Door
105 Lbs.
225
24x24x60 Smooth Double Door
107 Lbs.
293
18x24x48 Smooth Single Door
66 Lbs.
295
18x24x48 Smooth Double Door
67 Lbs.
297
18x24x60 Smooth Single Door
87 Lbs.
299
18x24x60 Smooth Double Door
88 Lbs.
* STAINLESS STEEL DOOR OPTION AVAILABLE
DIAMOND PLATE DOOR
Order #
Description
Shipping Weight
202
18x18x18 Dia. Plate Single Door
28 Lbs.
204
18x18x24 Dia. Plate Single Door
37 Lbs.
206
18x18x30 Dia. Plate Single Door
43 Lbs.
208
18x18x36 Dia. Plate Single Door
49 Lbs.
288
18x18x36 Dia. Plate Double Door
50 Lbs.
210
18x18x48 Dia. Plate Single Door
61 Lbs.
212
18x18x48 Dia. Plate Double Door
62 Lbs.
290
18x18x60 Dia. Plate Single Door
70 Lbs.
292
18x18x60 Dia. Plate Double Door
71 Lbs.
214
24x24x24 Dia. Plate Single Door
48 Lbs.
216
24x24x30 Dia. Plate Single Door
57 Lbs.
218
24x24x36 Dia. Plate Single Door
65 Lbs.
236
24x24x36 Dia. Plate Double Door
61 Lbs.
220
24x24x48 Dia. Plate Single Door
78 Lbs.
222
24x24x48 Dia. Plate Double Door
80 Lbs.
224
24x24x60 Dia. Plate Single Door
106 Lbs.
226
24x24x60 Dia. Plate Double Door
108 Lbs.
294
18x24x48 Dia. Plate Single Door
67 Lbs.
296
18x24x48 Dia. Plate Double Door
68 Lbs.
298
18x24x60 Dia. Plate Single Door
88 Lbs.
300
18x24x60 Dia. Plate Double Door
89 Lbs.
* CUSTOM DESIGNS AND SIZES AVAILABLE
OPTIONS
| Order # | Description | Shipping Weight |
| --- | --- | --- |
| 1518 | 18″ Lanyard Kit, Tool Box | 1 Lbs. |
| 1519 | 24″ Lanyard Kit, Tool Box | 1 Lbs. |
| 1824 | Shelf, Bolt-In, for 18×24 Tool Box | 7 Lbs. |
| 1830 | Shelf, Bolt-In, for 18×30 Tool Box | 10 Lbs. |
| 1836 | Shelf, Bolt-In, for 18×36 Tool Box | 12 Lbs. |
| 1848 | Shelf, Bolt-In, for 18×48 Tool Box | 16 Lbs. |
| 212 | 18x18x48 Dia. Plate Double Door | 62 Lbs. |
| 1860 | Shelf, Bolt-In, for 18×60 Tool Box | 23 Lbs. |
| 2424 | Shelf, Bolt-In, for 24×24 Tool Box | 10 Lbs. |
| 2430 | Shelf, Bolt-In, for 24×30 Tool Box | 12 Lbs. |
| 2436 | Shelf, Bolt-In, for 24×36 Tool Box | 15 Lbs. |
| 2448 | Shelf, Bolt-In, for 24×48 Tool Box | 19 Lbs. |
| 2460 | Shelf, Bolt-In, for 24×60 Tool Box | 23 Lbs. |