Stackable Boxes for Truck Tool Storage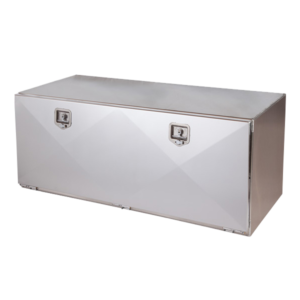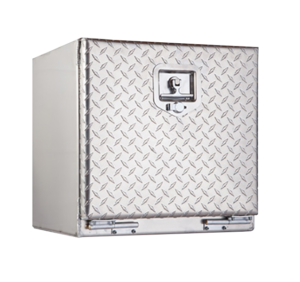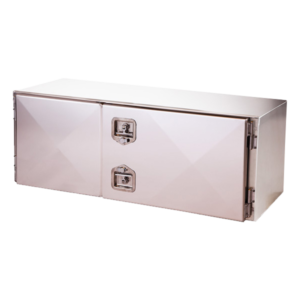 Mount underbody, on top of the deck, side by side – the door will open.

Constructed of high strength/low weight aluminum.

Bullet style hinge with 1/4″ S/S center pin.

Custom sizes and designs are available to meet specific needs.

Stainless Steel doors are available by special order.
ATTENTION
Polished stainless steel T-handle latches with locks

Doors available in smooth finish or diamond plate.  All smooth doors are polished to a # 8 grade for an exceptional appearance.

Protective coating on smooth doors for improved shipping protection (to be removed at time of installation).
Zinc Plated Steel Mounting Brackets:
Vertical angle is high strength alloy and 1/4″ thick.

Steel for strength and low cost, Zinc Plated for lasting good looks!

Available for 18″ or 24″ deep Tool Boxes.

Lightweight design – 117 only 18 lbs., 118 only 25 lbs.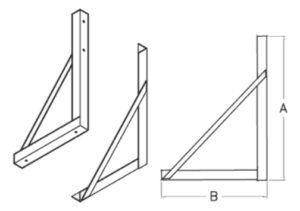 | Order # | Description | A | B | Shipping Weight |
| --- | --- | --- | --- | --- |
| 117 | For 18″ Deep Tool Box | 23-13/16″ | 16″ | 18 |
| 118 | For 24″ Deep Tool Box | 29-13/16″ | 22″ | 25 |
| 620 | E-Z Mounting Kit for 18″ Tool Boxes | | | 24 |
| 621 | E-Z Mounting Kit for 24″ Tool Boxes | | | 31 |
S-SERIES ALUMINUM BOXES
| Order # | Description | Shipping Weight |
| --- | --- | --- |
| 3573 | Tool Box, 18 x 17 3/16 x 18 Smooth Single Door S Series | 24 Lbs. |
| 3575 | Tool Box, 18 x 17 3/16 x 24 Smooth Single Door S Series | 36 Lbs. |
| 3577 | Tool Box, 18 x 17 3/16 x 30 Smooth Single Door S Series | 42 Lbs. |
| 3579 | Tool Box, 18 x 17 3/16 x 36 Smooth Single Door S Series | 48 Lbs. |
| 3581 | Tool Box, 18 x 17 3/16 x 36 Smooth Double Door S Series | 49 Lbs. |
| 3583 | Tool Box, 18 x 17 3/16 x 48 Smooth Double Door S Series | 60 Lbs. |
| 3585 | Tool Box, 18 x 17 3/16 x 48 Smooth Double Door S Series | 61 Lbs. |
| 3587 | Tool Box, 18 x 17 3/16 x 24 Smooth Single Door S Series | 36 Lbs. |
| 3589 | Tool Box, 18 x 17 3/16 x 60 Smooth Double Door S Series | 70 Lbs. |
| 3613 | Tool Box, 18 x 23 3/16 x 48 Smooth Double Door S Series | 66 Lbs. |
| 3609 | Tool Box, 18 x 17 3/16 x 48 Smooth Single Door S Series | 67 Lbs. |
| 3615 | Tool Box, 18 x 17 3/16 x 60 Smooth Single Door S Series | 87 Lbs. |
| 3617 | Tool Box, 18 x 17 3/16 x 60 Smooth Double Door S Series | 88 Lbs. |
| 3593 | Tool Box, 24 x 23 3/16 x 24 Smooth Single Door S Series | 47 Lbs. |
| 3595 | Tool Box, 24 x 23 3/16 x 30 Smooth Single Door S Series | 56 Lbs. |
| 3597 | Tool Box, 24 x 23 3/16 x 36 Smooth Single Door S Series | 64 Lbs. |
| 3599 | Tool Box, 24 x 23 3/16 x 36 Smooth Double Door S Series | 61 Lbs. |
| 3601 | Tool Box, 24 x 23 3/16 x 48 Smooth Single Door S Series | 77 Lbs. |
| 3603 | Tool Box, 24 x 23 3/16 x 48 Smooth Double Door S Series | 79 Lbs. |
| 3607 | Tool Box, 24 x 23 3/16 x 60 Smooth Double Door S Series | 105 Lbs. |
| 3605 | Tool Box, 24 x 23 3/16 x 60 Smooth Single Door S Series | 107 Lbs. |
| 3570 | Tool Box, 18 x 17 3/16 x 18 Dia. Plate Single Door S Series | 28 Lbs. |
| 3572 | Tool Box, 18 x 17 3/16 x 24 Dia. Plate Single Door S Series | 37 Lbs. |
| 3574 | Tool Box, 18 x 17 3/16 x 30 Dia. Plate Single Door S Series | 43 Lbs. |
| 3576 | Tool Box, 18 x 17 3/16 x 36 Dia. Plate Single Door S Series | 49 Lbs. |
| 3578 | Tool Box, 18 x 17 3/16 x 36 Dia. Plate Double Door S Series | 50 Lbs. |
| 3582 | Tool Box, 18 x 17 3/16 x 48 Dia. Plate Single Door S Series | 61 Lbs. |
| 3584 | Tool Box, 18 x 17 3/16 x 48 Dia. Plate Double Door S Series | 62 Lbs. |
| 3588 | Tool Box, 18 x 17 3/16 x 60 Dia. Plate Single Door S Series | 70 Lbs. |
| 3586 | Tool Box, 18 x 17 3/16 x 60 Dia. Plate Double Door S Series | 71 Lbs. |
| 3608 | Tool Box, 18 x 23 3/16 x 48 Dia. Plate Single Door S Series | 67 Lbs. |
| 3612 | Tool Box, 18 x 17 3/16 x 48 Dia. Plate Double Door S Series | 68 Lbs. |
| 3614 | Tool Box, 18 x 17 3/16 x 60 Dia. Plate Single Door S Series | 88 Lbs. |
| 3616 | Tool Box, 18 x 17 3/16 x 60 Dia. Plate Double Door S Series | 89 Lbs. |
| 3590 | Tool Box, 24 x 23 3/16 x 24 Dia. Plate Single Door S Series | 48 Lbs. |
| 3592 | Tool Box, 24 x 23 3/16 x 30 Dia. Plate Single Door S Series | 57 Lbs. |
| 3594 | Tool Box, 24 x 23 3/16 x 36 Dia. Plate Single Door S Series | 65 Lbs. |
| 3596 | Tool Box, 24 x 23 3/16 x 36 Dia. Plate Double Door S Series | 61 Lbs. |
| 3600 | Tool Box, 24 x 23 3/16 x 48 Dia. Plate Single Door S Series | 78 Lbs. |
| 3602 | Tool Box, 24 x 23 3/16 x 48 Dia. Plate Double Door S Series | 80 Lbs. |
| 3604 | Tool Box, 24 x 23 3/16 x 60 Dia. Plate Single Door S Series | 106 Lbs. |
| 3606 | Tool Box, 24 x 23 3/16 x 60 Dia. Plate Double Door S Series | 108 Lbs. |