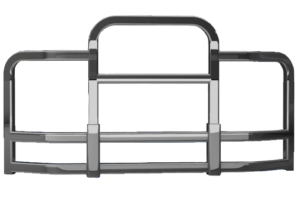 Two Stainless Steel models to choose from, Large and Small.

Made from Polished 304 Stainless Steel, will keep it's shine with normal washing

These are universal, pick the mounting kit for your truck model

All mount kits are hinged for easy access to your under hood needs
ATTENTION
EASY TO MOUNT
Easy to mount, two different styles depending on your truck.
Style 1 – a simple hinge system that utilizes the bumper bolt holes.
Style 2 – uses the tow hook holes for the mount and hinge.  New tow hooks are welded on the bottom of the brackets so you do not lose your tow hooks.
| Order # | Description | Shipping Weight |
| --- | --- | --- |
| 5900 | Dyna Bright Bumper Rack | 102 Lbs. |
| 5905 | Dyna Bright Bumper Rack | 58 Lbs. |
MOUNTING KITS
| Order # | Description | Shipping Weight |
| --- | --- | --- |
| 5910 | Mack – Style 2 | |
| 5911 | KW T800 – Style 1 | |
| Coming Soon | KW T660 | |
| Coming Soon | KW T680/T700 | |
| Coming Soon | Pete 386 | |
| 5913 | FL Columbia – Style 1 | |
| 5914 | FL Cascadia – Style 2 | |
| 5912 | Volvo VN – Style 2 | |