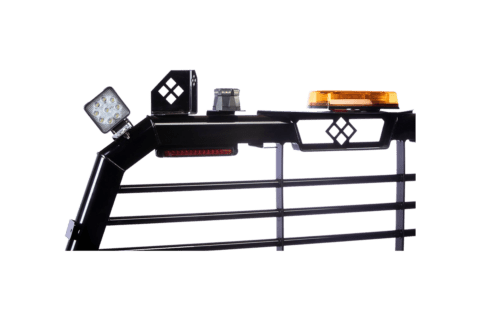 Lighting Options & Accessories
The double channel track designed into the D-tube on Merritt Light Truck racks allows the user to easily install lighting options and mounting brackets in your desired location and orientation. We proudly offer ECCO, Innotec and Optronics lighting options and color matched mounting brackets to fit any lighting requirement.
The track system also offers a convenient place to conceal and protect the wiring harness
Harnesses are available for stop turn and tail light applications
ECCO LED work lights and emergency warning mini light bars are easily installed with brackets designed to bolt into the track in the D-tube
The Innotec Micro Bright Beacon light is about the size of a hockey puck providing small low profile installation while meeting IP67 rating. Super bright and super durable
Slim-line red led stop turn tail lights from Optronics add modern, sleek and great looking appearance
The Benefits of Merritt's Light Truck Lighting Options
Merritt Aluminum Products Company has been designing and manufacturing high-quality aluminum trucking products based on driver input and needs over 68 years. Our family owned and operated company places great emphasis on driver safety, convenience, and product durability. Our greatest assests are our loyal employees who have earned a long-standing reputation for designing and building the highest quality products in the industry.