Cabinet Cab Racks for Large Storage Area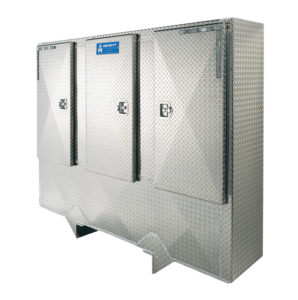 Large storage area, keep your storage items out of the weather and out of sight.  Break-off tabs are on the foot to fit all standard frame widths.  Smooth Doors are available.

No rear uprights, allowing for closer installation to the truck cab, a real space saver.  Full three door enclosure.  A very compact, usable storage unit.

Chain hangers and a full width top shelf are built into the design of the Cabinet Cab Rack.  Side door option available for easy access from the ground.

Additional mounting brackets not required for standard installations (drilling is required).  A problem solver, mounting system is available for non-standard applications.
ATTENTION
Use grade 8 bolts to mount.  Refer to the Merritt Mounting Instructions for correct installation.

Extruded Door Frame with a Full Perimeter Automotive Grade Door Seal.

Piano Style Hinges

Diamond Plate Surface

Stainless Steel Door Locks with Dust Covers.

New Side Door Option for Easier Access to Your Storage Areas.

UHMW used for Lock Striker Plate, for Easier Operation and Longer Life.
This cab rack is NOT A SAFETY DEVICE and will NOT PREVENT SERIOUS INJURY
or DEATH from forward shifting cargo as a result of an accident or improper securement.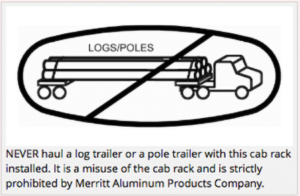 To prevent SERIOUS INJURY or DEATH:
ALWAYS secure your cargo in compliance with FMCSA/DOT regulations.  See 49 CFR 393 for specific requirements.  Be aware of any applicable state motor carrier regulations.
NEVER consider this cab rack to be part of your cargo securement system.  It is not a substitute for any cargo securement device and does not change any of the cargo securement requirements.
NEVER allow cargo to contact cab rack or use cab rack as a tie down point.
NEVER haul a log trailer or a pole trailer with this cab rack installed.  It is a misuse of the cab rack and is strictly prohibited by Merritt Aluminum Products Company.
INSPECT cab rack weekly for cracks or damage.  If damaged, replace cab rack.
CHECK torque for all bolts every 90 days.
Use cab rack for storing chains and equipment.  For more information, visit www.merrittproducts.com 
Proper installation of the cab rack is the responsibility of the installer.  If you do not have the proper equipment or skill to install the cab rack, take your vehicle to an authorized dealer.
All cab racks should be installed with an industry accepted mounting system.  The mounting system will not prevent serious injury or death from forward shifting cargo as a result of an accident or improper securement.
WARNING - NEVER reuse a mounting kit.
ALWAYS read and follow the Mounting Kit Assembly Instructions to ensure proper installation.
Models and/or Specifications Subject to Change Without Notice.
F.O.B. - Fort Lupton CO, Sacramento CA, Salt Lake City UT, Dallas TX, Houston TX, Kansas City MO, Minneapolis MN, Atlanta GA, Pittsburgh PA, Calgary AB (Canada), Toronto ON (Canada)
CONTACT US ABOUT THIS PRODUCT
Complete the brief form below, or call/email us directly.