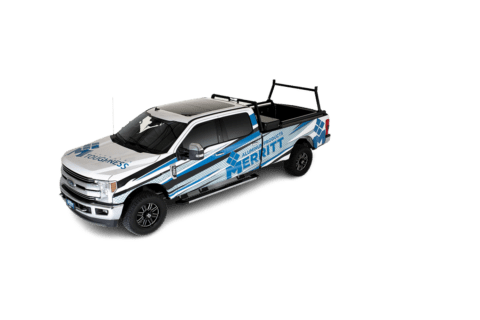 Light Truck Products

Merritt Aluminum Products Company is North America's leading manufacturer of premium aluminum accessory products for the trucking industry. Merritt is family owned and operated with over 70 years of experience in manufacturing and product distribution. The company has earned a legendary reputation for the highest quality products in the industry.
Merritt has built a great company with great people and great results. Our team is like minded, self-motivated, results driven, and aligned with our core values of integrity, trust, excellence, respect, and teamwork. We strive to live these values daily with our team and our customers.
Our purpose is to help our customers succeed by providing high performance, high quality products and exceptional support services. We make every effort to be the easiest company in the industry to deal with. If you experience an issue we will always try to do what is fair to make it right.
We are now bringing this approach to the light truck market.
Crossbody Toolboxes
Merritt's crossbody toolboxes fit most Full-Size pickups
All Merritt's crossbody toolboxes are built with commercial grade aluminum diamond plate material and the highest quality hardware and components
Design and extrusion of framing and hinge parts ensures strength and a secure fit to protect from the elements
Every box is designed to fit snuggly to the truck bed and allow the door to open a full 90 degrees
Headache Racks
Configurable for most Full-Size pickups
6061 aluminum alloy delivers lightweight durability
Integrates with lighting accessories and tie-down points
Four standard powder coat color options
Utility Racks
Ladder rack fits all full-sized pickup trucks
Upright legs bolt to the mounting rail for easy adjustment or removal
Multiple options are available to meet your lighting and load securement needs
Lighting Options & Accessories
Numerous configurations thanks to a modular mounting channel design with hidden wire harness
Stop/turn/tail lights, LED beacons, work lights, cargo stops, and more available
Utility Chest Boxes
High-quality tamper-resistant latches
Extruded aluminum door framing
Best weather-resistant seal in the industry
High quality gas shocks
Benefits of Merritt's Light Truck Accessories
Merritt products are known for legendary toughness and innovative designs preferred by truckers who depend on these products every day. The combination of quality designs and manufacturing processes result in a line of high-quality products that stand the test of time.
Merritt's premier light truck product line consists of crossbody toolboxes, utility chest boxes, headache racks, and utility racks, all of which are available in choices of gloss aluminum, satin black, gloss black, or white.