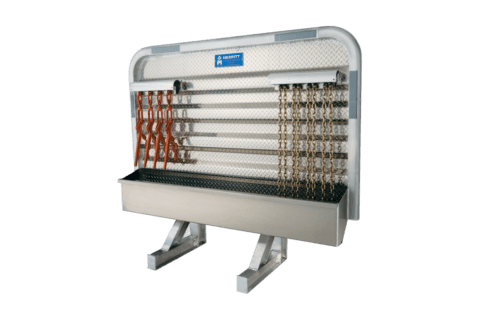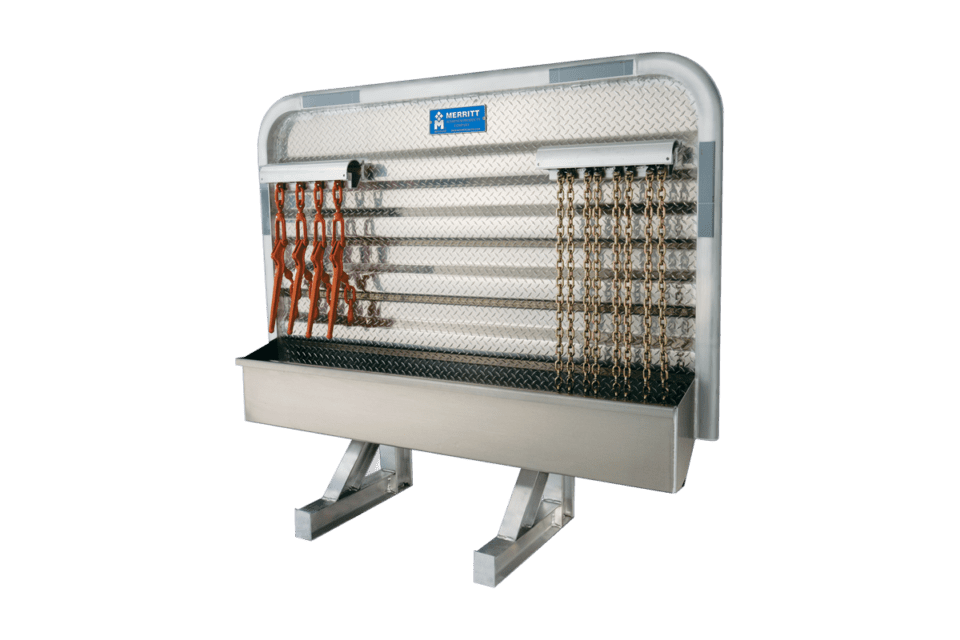 Showing 1–20 of 95 results
Heavy Duty Aluminum Truck Products
Semi-trucks and semi-trailers are designed to transport cargo efficiently. What they aren't designed to do is carry the tools, extra batteries, and other gear necessary to keep them on the road safely. Whether you're a truck owner or driver, carrying, having easy access to, and protecting these items from the elements or theft is critically important.
Merritt has long been relied upon for boxes and cab racks which provide adequate storage at affordable prices and with easy installation. This also makes us an ideal partner for parts managers looking for wide selection and availability in solutions for their clients.
Cab Racks
Dyna-Tube Extrusion, aerodynamic radius corner shape, for low weight. Offset design to accommodate the new style exhaust systems. 4" Foot assembly provides increased trailer clearance, easier mounting and durability.
New T-Beam extrusion allows Merritt to decrease T-beam profile by one inch, allowing greater swing room clearance.
5" uprights require less mounting space.
Great for storage, one door, two door and full three door enclosures are available. Internal shelves and chain hangers are popular options. Keep your storage items out of the weather and out of sight.
Storage Boxes
Utilize unused frame space and add additional storage areas.
Built from aluminum for low weight, yet high strength, Merritt offers heavy duty designs on all storage boxes for a longer life.
18 Different models to make the most of your frame space and add additional storage areas.
Fenders
Thirty-six models of fenders to fit most applications and twelve different designs to cover your various needs.
Different styles and materials to choose from, allowing you to pick the "look" you want.
Aluminum available in .090, .100DP or .125 thickness. 304 16ga stainless steel, #8 polish for strength and bright finish.
Design a mounting style that will work for your truck. Custom lengths are available.
Accessories
Deck Covers
Hose Racks
Bumper Racks
Load Levelers
Steps
Tire Chain Carriers
Benefits of Merritt's Heavy Duty Accessories
Merritt makes "jewelry" for trucks. Finished in smooth or diamond plate aluminum, these products are very appealing to the eye. The beauty goes to the core with high-grade aluminum alloy processed with advanced engineering. No matter what the item, our legendary toughness comes through. All of this available in a few days through our national network of distributors and warehouses.