Popular Class 8 Truck Upgrades
s your rig ready for an upgrade? If so, you're in luck! An array of options are available when it comes to choosing aftermarket upgrades for your semi-truck.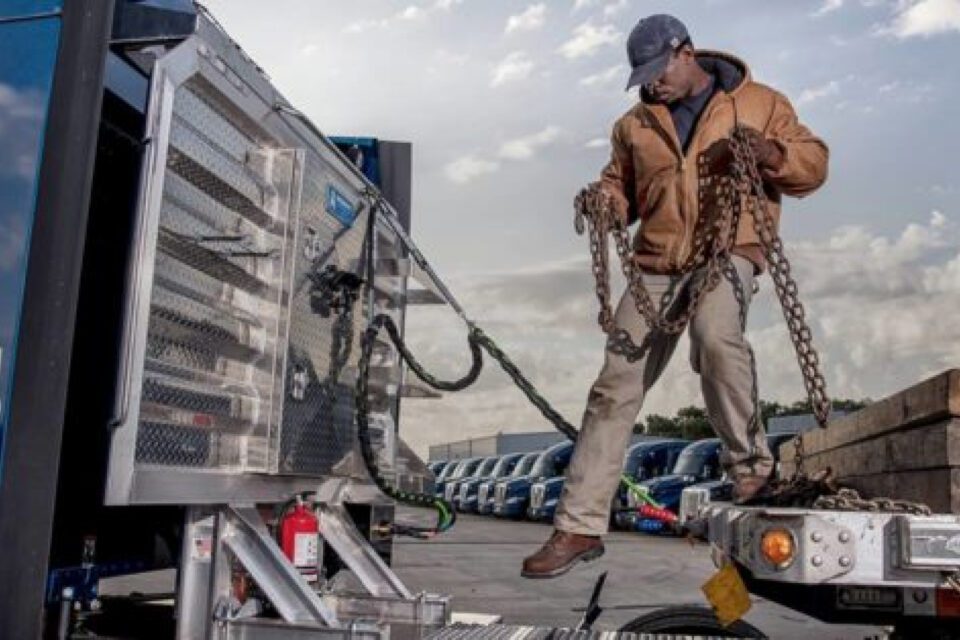 Is your rig ready for an upgrade? If so, you're in luck! An array of options are available when it comes to choosing aftermarket upgrades for your semi-truck.
Whether you want to modify your engine, brakes, or in-cab options, let's take a look at what's out there so that you can make the best choice for your specific needs.
If you're looking to boost your rig's efficiency and performance, a hydraulic tank is a great way to do so. You can extend the life of your semi-truck's engine with the help of a hydraulic tank, minimizing downtime or expensive repairs. Pairing a high-efficiency hydraulic tank with a sleek-looking headache rack can save space, time, and, ultimately, money.
Be as prepared as possible with a battery box. Having an extra set of batteries for your truck is crucial when you need them the most. A variety of sizes and styles are available to fit your particular amount of available space.
Cab racks are another way to upgrade that come in a wide variety of customizable options for your rig. Internal shelves, chain hangers, and your choice in the number of doors allow you to tailor this pick to your specifications. Cab racks are essential for storing the items you need to keep secure and free from damage—think inclement weather conditions that are unavoidable when you're in for a long haul. Accessibility and size are key to narrowing down the search to the cab rack that's best for you.
Choosing a new, updated fender for your semi-truck is an additional way to boost your truck's style and performance. Whether you choose a fender that is made of stainless steel, polymer, or aluminum, each offers their own benefits. Durability and cost are the top two factors to consider when you're trying to decide what type of fender will work best for you on the road.
Merritt Aluminum Products is the most respected name in the trucking supply industry. Most of our products are consistently fully-stocked and readily available for your purchase. Here's a rundown of Merritt's most popular products for upgrading your rig's performance, style, and efficiency.
Cab Racks
Merritt offers several cab rack products with customizable features and add-ons. Stay organized and keep your belongings safe and secure at all times with a high-quality cab rack from Merritt.
Cabinet Cab Racks
Perfect for large storage areas
Compact
Smooth doors
Break-off tabs on foot for standard-width fit
Chain hangers and full-width top shelf built-in
Side door option
Dyna-Drom Cab Racks
1-3 door enclosure option
Aerodynamic shape for a sleeker look
Internal shelves and chain hanger options
Allows for more cargo-carrying area
Northern-Light Cab Racks
Unique foot for easier install
3-door enclosure and LED lights for added functionality
2 chain hangers and a 6' wiring harness
2 heavy-duty shelves in "L" center compartment
Short-Foot Cab Racks
Increased clearance
Fits a wide variety of models and truck widths
Special tray options
Easy install
Storage Boxes
Merritt's wide selection of storage boxes includes battery boxes, between-the-frame toolboxes, logger boxes, custom-order upright utility boxes, and much more.
Read on for a closer look at some of Merritt's storage solutions.
Battery boxes
Lightweight and strong
Made of aluminum alloy for long-lasting durability
Five style options for side or in-frame mount
Quick, easy installation
Between-the-Frame Toolboxes
No drill, easy install
Lockable latching system
Mounting kit included
Upright Utility Boxes (custom order only)
Extruded door frame
Full perimeter automotive door seal for water-resistant closure
Heavy duty design for long-lasting performance
Aluminum construction for lightweight yet strong capability
Choose from two sizes
Fenders
Merritt's fenders come in stainless steel, aluminum, or poly-pro options. All of their fenders are available in single-axle, double-axle, and quarter fender configurations and have complete mounting systems available.
Aluminum & Stainless Fenders
36 models and 12 designs to choose from
Rolled, Deep Drop, Super Duty, and Quarter Fenders
Custom lengths available
Poly-Pro Fenders
High-density polyethylene withstands both hot and cold weather extremes
Lightweight, tough, and low-maintenance.
Very durable
UV protection to prevent fading and crumbling in the sun
Easy to install and replace
Accessories
Merritt also offers a wide range of accessories to accommodate your semi-truck.
Deck covers, hose racks, hydraulic tanks, E-Z spare tire carriers and toolbox mounts, and much more are available from Merritt.
Here are some of highlights for a few of Merritt's available accessories.
Merritt's Aluminum Dyna Deck Covers are expandable to fit your needs. They have self-draining, slide-together planks.
Hose Racks are constructed with lightweight, strong aluminum alloy for long-lasting performance.
Merritt's Hydraulic Tanks feature a long-lasting, great look, as well as a fluid level sight gauge with thermometer and metal guard for protection.
The E-Z Spare Tire Carrier is built from the time-tested, proven D-Tube and Cab Rack foot I-Beam for the strongest construction.
Tire Chain Carriers from Merritt include a lockable lid for extra security, as well as a strong design to carry up to 300 lbs. of chains.
Are you ready to make some major upgrades to your semi-truck? Call or visit https://merrittproducts.com/ to place your order or to learn more about Merritt's complete list of product options.