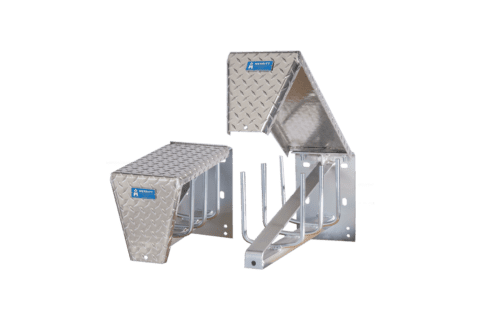 Wide Selection of Semi Truck Accessories
Make sure you and your truck are ready for anything with Merritt's heavy-duty truck accessories. Our durable accessories are built to outlast your truck, and many customers use our products over the lifespan of multiple vehicles.
Moreover, we simplify the purchase process for you. Whether you're a truck driver, owner, or a parts manager, you can place an order by giving us a call or sending us an email. We'll dispatch your request to a Merritt warehouse nearest to you for quick shipping so that you can enjoy the Merritt advantage right away.
Full range of accessories for Class 7 and 8 heavy duty semi-trucks
Easy mounting solutions and multiple mounting options make our accessories fully modular
Wrangle hoses, spare tires, tire chains, and connections
Ultimate durability and longevity
Why Merritt Heavy Duty Accessories?
Semi-truck drivers need to feel prepared, secure, and confident when settling in for the long haul. Heavy-duty accessories give that finished feel to any experience truck driver's trek—and experienced truck drivers know top-notch quality when they see it. Merritt Aluminum Products is well-known and respected in the commercial trucking business for several reasons— a commitment to strong, dependable materials, an impressive selection, availability that spans the country with nationwide warehouses, and a reputation for unmatched style.
What Types of Heavy-Duty Accessories Are Available?
Everything from Heavy-Duty Storage Boxes, Deck Covers, Hose Racks, Hydraulic Tanks, E-Z Spare Tire Carriers, E-Z Toolbox Mounts, Tire Chain Carriers, Steps, and Connection Boxes are available to enhance your long hauls as much as possible. You name it—Merritt has it. When it's you and your truck vs. the elements and unpredictability on the road, only a trustworthy brand will do. Our products are so durable and long-lasting, odds are, they'll even outlast your truck. Safety, security, convenience, and polished professionalism are always a top priority when you use Merritt Aluminum Products' line of reputable, top-quality products.
What Are the Benefits of Heavy Duty Truck Accessories?
Storage. Despite the sheer size of most semi-trucks, Merritt recognizes that having sufficient space for your essentials as a truck driver is often difficult to come by—this is where Merritt's go-to accessories come into play. Despite the fact that semi-trucks usually have flatbed or trailer to transport cargo, those areas usually are not sufficient for storing the tools, belongings, and other essential equipment. Store your belongings in style with Merritt's wide variety of heavy-duty trucking must-haves. Simply stated, Merritt's semi-truck storage solutions are a truck driver's best friend. Not to mention the added perks of storage boxes already available and mounted to a truck for parts managers and truck dealerships. Added value and convenience is an instant reward when you use Merritt products.
Security. It's not just truck drivers who will benefit from the added peace of mind that comes with heavy-duty storage boxes. Truck owners can enjoy knowing that not only are their drivers equipped with the storage space they need, but also with the security that comes with storing their belongings (tools, batteries, and more) in a trusted Merritt product.
What more could you ask for? Contact us today to place an order, or to experience the Merritt difference that so many in the commercial trucking industry have already been a part of.