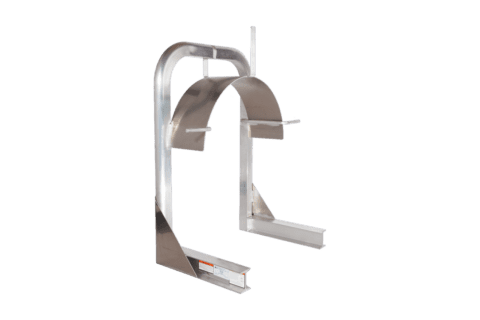 Standard Hose Racks
Constructed of light, but strong Aluminum; for long life, great looks and weight savings.
I beam foot construction for a robust product. Stocked in Merritt warehouses, for quick delivery. Contact your local dealer for order placement.
Options available to make the Rack even more productive. Heavy-duty mounting kit available. Easy to install, yet durable and strong.
Constructed of light, but strong Aluminum; for long life, great looks and weight savings.
Premium alloys used throughout, to make sure you receive the great Merritt product you expect.
I beam construction for a robust product.
Stocked in Merritt warehouses, for quick delivery. Contact your local dealer for order placement.
Options available to make the Rack even more productive.
Heavy-duty mounting kit available. Easy to install, yet durable and strong. (must be installed to manufacturer directions).
Custom Heights Available
Heavy-Duty Hose Racks
Constructed of light, but strong Aluminum; for long life, great looks and weight savings.
Premium alloys used throughout, to make sure you receive the great Merritt product you expect.
I beam foot construction for a robust product. Stocked in Merritt warehouses, for quick delivery. Contact your local dealer for order placement.
Load tested to 1000lbs static load
Options available to make the Rack even more productive. Heavy-duty mounting kit available. Easy to install, yet durable (must be installed to manufacturer directions).