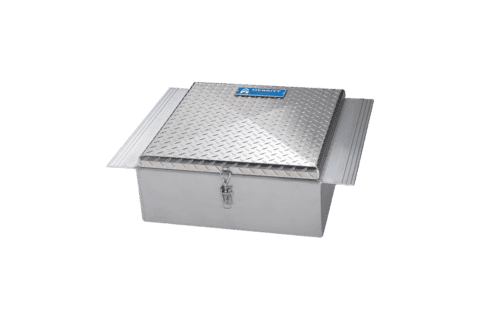 Merritt's Wide Selection of Semi-Truck Storage Boxes
When it comes to storage boxes for semi-trucks, Merritt Aluminum Products is the name to trust. We offer a wide selection of tool, battery, DEF, and other storage boxes designed to keep truckers' must-have items while on the road. Our boxes are made of high-grade aluminum alloy, delivering lightweight and durability.
Product brochure
Moreover, we simplify the purchase process for you. Whether you're a truck driver, owner, or a parts manager, you can place an order by giving us a call or sending us an email. We'll dispatch your request to a Merritt warehouse nearest to you for quick shipping so that you can enjoy the Merritt advantage right away.
Utilize unused frame space and add additional storage areas.
Built from aluminum for low weight, yet high strength, Merritt offers heavy duty designs on all storage boxes for a longer life.
18 Different models to make the most of your frame space and add additional storage areas.
Saddle Boxes now available with optional internal chain rack or dividers.
Saddle Boxes available with or without step options.
Underbody Tool Boxes and Cam Lock Boxes
Stainless Steel doors are available by special order
Custom styles and designs are available to meet specific needs
Door lanyard option available
Battery Boxes
Five styles to choose from, to aid in your installation process.
Four side frame mounts and one in-frame mount.
Made from a strong, yet light-weight Aluminum alloy, for long life and weight savings.
Side frame units can mount using a frame drill bracket or a No-Drill kit that does not need to drill the frame. This allows for a savings in installation time.
All models of battery boxes are stocked in various Merritt Warehouse locations.
In-Frame box does not require any frame drilling to mount, saving installation time. Comes with mounting kit.
All boxes come with or have an optional battery hold down kit. You do not need to spend time on how to mount the batteries.
Battery boxes will hold two, four or six group 31 batteries. High-grade aluminum alloy construction for low weight, yet high strength to deliver longer box life.
S-Series Stackable Boxes
Mount underbody, on top of the deck, side by side – the door will open.
Constructed of high strength/low weight aluminum.
42 Standard base models
Bullet style hinge with 1/4″ S/S center pin.
Custom sizes and designs are available to meet specific needs.
Stainless Steel doors are available by special order.
Saddle Boxes / Step Boxes
Saddle Boxes now available with optional internal chain rack or dividers.
Saddle Boxes available with or without step options.
Cab Access Boxes
High-grade aluminum alloy for low weight & high strength, delivering longer box life.
6 Models for more application choices, all offer the same Merritt tool box features that are time proven designs for a longer product life, less life cycle cost.
Extruded door frame & automotive door seal on the storage box give a more water resistant seal and added strength.
Bright Aluminum & Stainless Steel door and lid are available as a custom option – Mounting brackets available to mount on any truck with available space.
Black Steel Bawer Boxes
Lockable T-Handles.
Single piece main structure for a stronger box, less welds.
Dust cap on door locks.
"Automotive" style weather stripping.
Stocked throughout the Merritt warehouse system.
Merritt service that the industry has come to expect.
Dealer locations throughout North America.
DEF Storage Boxes
You can store four one gallon jugs or two 2.5 gallon jugs.
Mounting Kit is welded inside and can be mounted from either end.
Utilize unused frame space and add outside storage for your DEF Products.
Heavy Duty designs on all DEF boxes for longer life.
Utilizing Merritt's "Bullet" hinge with 1/4″ S/S pivot, for no trouble – long life.
Between-the-Frame Toolboxes
Easy installation using clamps – no drilling of the frame.
Mounting Kit included.
Lockable latching system.
Logger Boxes
Rugged diamond plate lid.
Easy cross frame mounting kit is included. Can be side-framed mounted using the #118 mounting kit.
Sloped, top opening door.
Fairing Boxes
Designed to fit between the side fairing panel & truck frame
Unique mounting kit allows for easy installation without removing side fairings
Extruded door frame with automatic door seal for a water resistant closure
E-Z Toolbox Mount
This is a no-drill mounting kit system for those not wanting to drill into truck frame.
New system requires no drilling of the frame to mount, it's strong, durable, easy to install.
Fits all Merritt side mount Toolboxes, a quick and simple solution to drilling the frame and easy to move from truck to truck.
Load rating equal to the Merritt box rating being mounted.
All steel parts are Zinc plated for longer life cycle.
Normal hand tools used for installation.
Stocked in most Merritt warehouse locations.
Tuckaway Box
Available as a cab rack add-on.
What Are the Benefits of Truck Boxes?
Semi-trucks usually have flatbed or trailer to transport cargo, but they don't often have enough storage areas for truckers' must-have items while they're on the road. This is where storage boxes come in.
For drivers. With storage boxes mounted on their trucks, drivers no longer have to worry where to place their tools, extra batteries, DEFs, and other items securely. They can change flat tires, refill exhaust fluids, or replace batteries on the roadside or at the truck stop with ease, preventing any delay in their schedule.
For truck owners. Storage boxes are a cost-effective option to ensure drivers have the items they need to endure long hours on the road. These boxes keep tools and gears from being stolen or damaged by harsh temperatures if left on the flatbed while the truck is moving or at a rest area. Unlike retrofitting trucks with storage areas, Merritt boxes are quick, easy, and affordable to install, giving owners cost and time savings.
For parts managers. Truck boxes are a great offering for a truck dealership or as an auto shop product. From tool and cab access boxes to battery and DEF boxes, you have many options to offer your clients. And if you partner with a reliable supplier like us, you can focus on making sales than tracking down boxes each time a client requests one installed on their truck before purchase or for an upgrade.
What's the Merritt Difference?
Legendary toughness. Our boxes are some of the strongest in the industry. We use high-grade aluminum alloy to deliver truck storage boxes that are lightweight but long-lasting.
Good-looking products. Often referred to as "truck jewelry," our truck boxes are finished in a smooth or diamond plate and complete with steel latches, giving semi-trucks a sleek, refined look.
Impressive selection. Our selection of boxes includes cab access, cam lock, tool, battery, DEF, and other storage boxes. We also carry outstanding truck boxes from the popular brand, Lago.
National reach. With over 60 years in the business, we have built warehouses across the US. It allows us to ship anywhere in the country in just a few days and without any hassle.
If you need help selecting the right truck box for your needs or applications, feel free to contact us. Our friendly representatives will guide you through your order and purchase process.