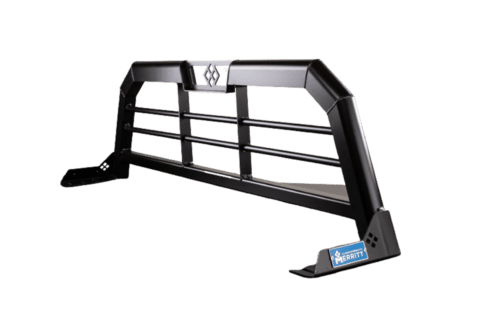 Showing the single result
Light Truck Headache Racks
Merritt's headache racks are designed for function and durability while providing a distinctive look. Each headache rack has a channel designed into the frame to support multiple lighting and load securement accessories. The channel also serves to hide and protect a wiring harness.
Merritt's headache racks fit all Mid and Full-Size pickups
All Merritt headache racks are built from commercial grade aluminum materials for strength and durability
Features a lightweight extruded frame for maximum visibility
A channel on the backside of the frame provides easy mounting and flexibility for multiple accessories such as lighting and load securement
The rear channel also hides and protects a wiring harness for light options
Mounting kits available to fit your truck
The Benefits of Merritt's Light Truck Headache Racks
Merritt Aluminum Products Company has been designing and manufacturing high-quality aluminum trucking products based on driver input and needs over 68 years. Our family owned and operated company places great emphasis on driver safety, convenience, and product durability. Our greatest assests are our loyal employees who have earned a long-standing reputation for designing and building the highest quality products in the industry.