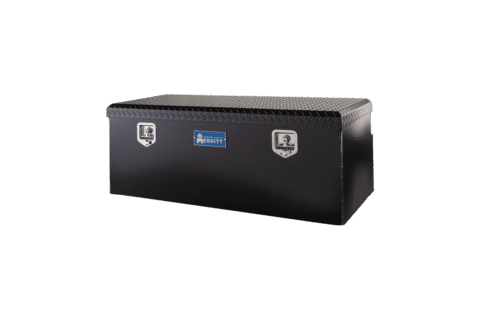 Showing the single result
Utility Chest Boxes for Light Trucks
Merritt Utility Chest Boxes are designed to mount in your bed rather than on your bed rails. They are manufactured for commercial use, providing legendary durability and functionality. Every Chest Box is built with commercial grade materials and the highest quality hardware providing years of trouble-free operation.
Tamper-resistant locks and high-quality latch hardware and components provide the highest level of security and years of trouble-free operation.
Extruded aluminum door framing provides the highest level of strength, durability and function in the industry.
The extruded frame also provides a stronger attachment point for the latch and gas shocks which eliminates failure points.
The door and body extrusions mate to protect the seal surface, providing the best weather resistant seal and security in the industry.
Cargo control D-Rings and removable tool tray options available
The Benefits of Merritt's Utility Chest Boxes
Merritt Aluminum Products Company has been designing and manufacturing high-quality aluminum trucking products based on driver input and needs over 68 years. Our family owned and operated company places great emphasis on driver safety, convenience, and product durability. Our greatest assests are our loyal employees who have earned a long-standing reputation for designing and building the highest quality products in the industry.