Bawer Black Steel Storage Box
$0,00
Lockable T-Handles.
Single piece main structure for a stronger box, less welds.
Dust cap on door locks.
"Automotive" style weather stripping.
Stocked throughout the Merritt warehouse system.
Merritt service that the industry has come to expect.
Dealer locations throughout North America.
Zinc Plated Steel Mounting Brackets:
Vertical angle is high strength alloy and 1/4" thick.
Steel for strength and low cost, Zinc Plated for lasting good looks!
Available for 18" or 24" deep Tool Boxes.
Lightweight design – 117 only 18 lbs., 118 only 25 lbs.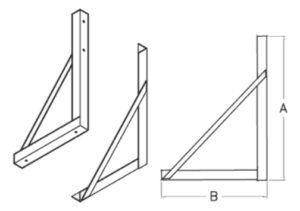 Zinc Plated Bracket
| Order # | Description | A | B | Shipping Weight |
| --- | --- | --- | --- | --- |
| 117 | For 18″ Deep Tool Box | 23-13/16″ | 16″ | 18 |
| 118 | For 24″ Deep Tool Box | 29-13/16″ | 22″ | 25 |
| 620 | E-Z Mounting Kit for 18″ Tool Boxes | | | 24 |
| 621 | E-Z Mounting Kit for 24″ Deep Tool Box | | | 31 |