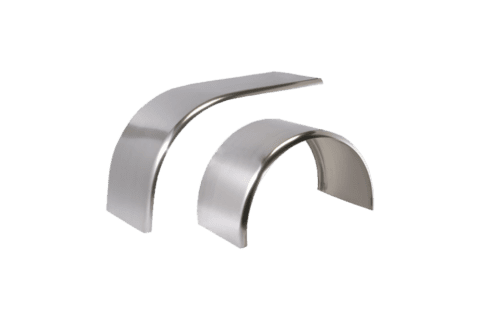 Merritt's Wide Selection of Semi-Truck Fenders
Merritt's heavy duty semi truck fenders represent the standard in quality and durability for Class 7 and 8 trucks. Available in stainless steel, aluminum, and polymer, we offer classic and modern styles in the material that best suits your need.
Select from stainless, aluminum, and polymer materials
Available in single-axle, double-axle, and quarter fender configurations
Complete mounting bracket system available
Whether you need a lightweight option or an extra-reinforced pair of super duty fenders, Merritt has you (and your wheels) covered.
Adding a set of fenders to your truck is more than the standard protection from water and road debris. Fenders also help drivers operate the vehicle with ease while adding a sleek, finished look to the truck.
Merritt Aluminum Products offers 36 models and 12 designs of aluminum & stainless semi-truck fenders to fit most applications and suit various styles. Our products feature durability and bright finish, instilling a sense of pride in any truck driver and owner. Also, we're a manufacturer that's easy to work with. We have representatives and warehouses across the US that are ready to ship your orders in just a few days.
Looking for something lighter? Check out our lightweight, yet rugged Poly-Pro polyethylene fenders.
Aluminum and Stainless Fenders
Rolled, Deep Drop, Super Duty, and Quarter Fenders
Thirty-six models of fenders to fit most applications and twelve different designs to cover your various needs.
Different styles and materials to choose from, allowing you to pick the "look" you want.
Design a mounting style that will work for your truck. Custom lengths are available.
Poly-Pro Fenders
High-density polyethylene withstands both hot and cold weather extremes
Lightweight and tough. Low-maintenance.
Capable of surviving multiple impacts
UV protection to prevent fading and crumbling in the sun
Easy to install and replace
E-Z Fender Mounting System
6 Models to choose from, allowing you to adapt a bracket to your application. 3 Adjustable models, giving you greater flexibility.
All E-Z Fender Mount brackets have the time tested single mounting bolt. Very Quick- Very Easy!
3 Straight models available with rubber spacers, which provide 1″ clearance between the fender and bracket, allowing dirt and gravel to pass through… makes cleaning easier.
All hardware is supplied with each bracket for mounting.
Why Merritt Heavy Duty Truck Fenders?
Professional truckers know firsthand the importance of having fenders that go the distance. When you use one of Merritt Aluminum Products' exceptional array of fender selections, your semi-truck trek will be more fuel-and-cost-efficient. Merritt sets the standard of reliability when it comes to Class 7 and 8 trucks. Read one for further information about the heavy-duty fenders available from this trusted trucking-supply provider.
What Types of Heavy-Duty Fenders Are Available?
Merritt offers a variety of metal (stainless steel and aluminum), or poly-pro (plastic) fenders. In fact, Merritt's selection of fenders are available in single-axle, double-axle, and quarter-fender configurations. To complete your setup, complete mounting bracket systems are available for purchase.
Aluminum & Stainless Steel Fenders
Not only are metal-based fenders sleek and stylish, they also offer additional perks. They are durable, corrosion-resistant, and very versatile. Their wide variety of available fenders fit most applications and suit most styles. Their flashy design is more readily noticeable in extreme weather conditions, giving added visibility for all drivers on the road.
Polypropylene (plastic) fenders
Don't let the "plastic" verbiage factor fool you—plastic fenders for your semi-truck are actually the MOST durable, easy to repair, and resistant to corrosion—not to mention cheaper to purchase, despite the desirable price factor. Additionally, if and when damage does occur, they are the simplest to repair—even on the scene. Poly-pro fenders are the perfect solution for those seemingly-endless long hauls.
What Are the Benefits of Heavy Duty Truck Fenders?
When you use a professional-grade, heavy-duty fender on your semi-truck, you'll see and feel the difference immediately.
Choosing the right fender results in safer conditions for you—and other drivers on the road.
Less Debris and Dirt on Your Truck—Heavy-duty fenders offer more than just added looks—they result in reduced splash or debris on your truck. Dirt, snow, sleet, and more—less on your truck means less you'll have to clean and maintain for a safe, deadline-conscious haul. Why does this matter? Less dirt and debris means added roadway visibility and less time spent on cleaning and maintenance, which equals less lag time. Meet your deadlines in a safe and efficient manner with the benefits of a heavy-duty fender.
More Fuel Efficiency—with the addition of a lightweight, durable, heavy-duty fender, your semi-truck will be trekking along at a more efficient rate, saving money and time—what's not to like about that winning combination?
With the Right Set of Fenders, Truck Drivers and Owners Gain
Time and cost savings
Washing a truck can seem like a never-ending task — just ask any driver who works in areas with lots of mud, dirt, or snow. While a set of single-axles or semi quarter-fenders won't eliminate road spray, it can reduce the dirt spray in the cab significantly. Adding a fender to your semi-truck can help you save time and money usually spent cleaning it. It also reduces the risk of costly truck damage due to road spray.
Increased safety
Fenders can keep road debris from flying towards the truck's windshield, protecting the safety of the driver and other motorists on the road. Our fenders also reduce water sprays. Water on the road can cause a cloudy spray on the windshield that makes it difficult for drivers to see the road. As a tough barrier between the tires and the cab, fenders help maintain a safe truck driving environment.
Sleek, finished look
A full tandem fender covers both axles with a flat top in the middle, giving any truck a finished look. Single-axle fenders, on the other hand, cover each wheel, delivering a tighter, sleeker style for heavy-duty trucks. No matter the look you're gunning for, fenders can undeniably improve the exterior appeal of your truck.
Why Choose Merritt?
Whether you're a truck owner, driver, or a parts manager, you can count on us for high-quality aluminum and stainless truck fenders. No matter which fender style or size you need, we've got it.
36 models, 12 designs
Do you want a full-tandem, quarter, or single-axle fender? Browse through our wide selection, and you'll likely find the model and design that suits your style. If you're a truck parts manager, you can capitalize on our inventory range to deliver fenders that meet the needs of each of your clientele.
11 warehouses across the US
Merritt Aluminum Products has 11 fully stocked warehouses across the country that are ready to ship your orders. We can deliver fenders anywhere in the US within three days. With us, you don't have to worry about late response and delivery delays. You'll get new or replacement fenders for your fleet in no time.
High-grade aluminum
Our products are known for legendary toughness. We make sure each set of fenders we manufacture has a high level of strength, thriving in harsh environments, and delivering maximum protection from road spray.
Ready to order a durable set of fenders? Give us a call today.